As we already know, the technology field moves very fast and web pages creation is not far behind. Today, the most efficient and well-known tool to create your own website or blog is WordPress. 
Lately, everyone is talking about the Headless CMS concept within the web development field. At 3ipunt we have wide experience with WordPress, and therefore, we explain the concepts and functionalities of Headless CMS and, more specifically, Headless WP.
What is a CMS?
To begin with, a CMS is a Content Management System. There are many on the market, but the best known and most used are surely WordPress and Drupal.
A CMS consists of two parts: the one for managing the content itself (back-end) and the one where those contents are displayed for the user (front-end).
What is a Headless CMS?
Now that we know what a CMS is, the term Headless CMS refers to a CMS that does not have the content display and therefore, it is only responsible for creating and managing them from the back-end.
In addition, it also has to have an API, to be able to communicate with any system, interface and / or other API.
Therefore, in the case of WordPress, we only use it to create and manage the content but not to display it.
Headless WordPress. How does it work?
Since WordPress is one of the most used CMS in the world, and we, at 3ipunt, have a wide experience working with it, we will focus on it.
The next question could be, and now how do we display content in WordPress?
Well, this connection would be made through the WordPress REST API, which is already integrated into the WordPress core.
We can already interact between the two APIs, and make the data call to WordPress and then, from the front-end and through JavaScript, this data is collected and displayed.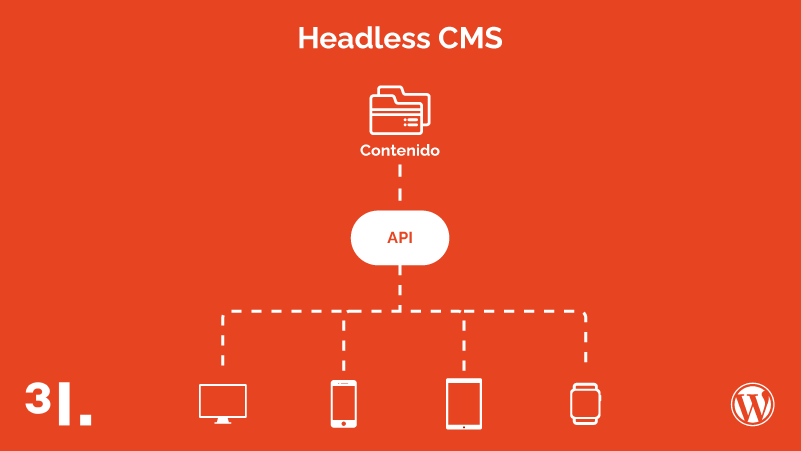 Advantages of using Headless WordPress
Performance improvement: making only API calls to display content, this is loaded much faster.

Mobile apps: being able to create native mobile applications

Multichannel publication: creating content on a single site, that can be displayed on different platforms.

Security: separating the front-end and the back-end, we improve the security of the system, as there is no direct connection to the database.
Now that you know more about Headless WP, if you want to have the best website, from 3ipunt we can help you achieve it. Do not hesitate to write us to contacte@tresipunt.com!