We all know what the most powerful, popular, and free Learning Management Systems (LMSs) of the moment are: Google Classroom and Moodle. Thus, in this post, we are not going to analyze or describe any of them, but only show a brief comparison.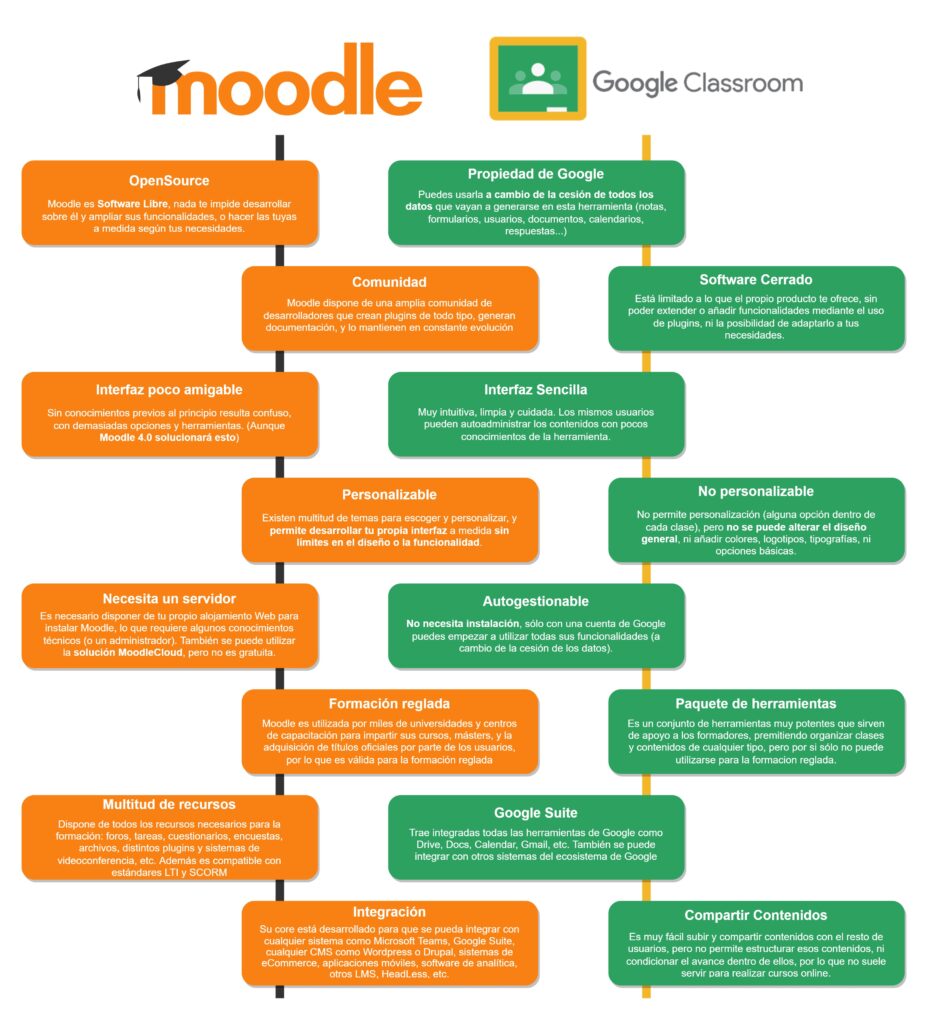 Leaving aside the discussion on which of the two systems is more powerful, has more resources, or is more adaptable to different online training systems, at 3ipunt, we want to highlight a feature in Moodle which we believe makes it the best choice: Data on the platform is only managed by you, there is no transfer of data to third parties.
This does not seem to many training centers and public organizations to be a compelling reason to decide for either one system or the other, but it cannot be denied that by using Classroom we are allowing the massive collection of data we collect from our students to be accessed by Google. That means Google may use collected data for purposes we do not get to know and, in many cases, we are talking about underage users or users who are forced by schools to create a Google account to access learning content.
Choose Moodle education as the elearning platform for your school.
At 3ipunt we have always been committed to the use of open-source tools that respect the privacy of users (by participating in projects such as Xnet). For this reason, among others, we always recommend the use of Moodle for the management of any type of online training.
However, many training institutions are currently using Classroom on a massive scale, and find it very challenging to migrate all their content to a Moodle platform. We worked hard and resolved this issue!
How to link Classroom with Moodle step by step
To solve this step, we developed a tool to migrate easily and automatically any content from Google Classroom to any Moodle platform, in a few minutes, so that you do not have to do all the work manually, nor need to keep or continue to manage Classroom.
This tool consists of a local plugin that is installed on any Moodle platforms, and users who are assigned the ability to import courses will be able to choose the ones they wish to import from all the Classroom classes they have access to.

To do this, users will only have to log into Google with the account they normally use to access Classroom, grant read permissions to the plugin, and all the contents that can be imported to Moodle will be shown, and users will be able to select the ones desired.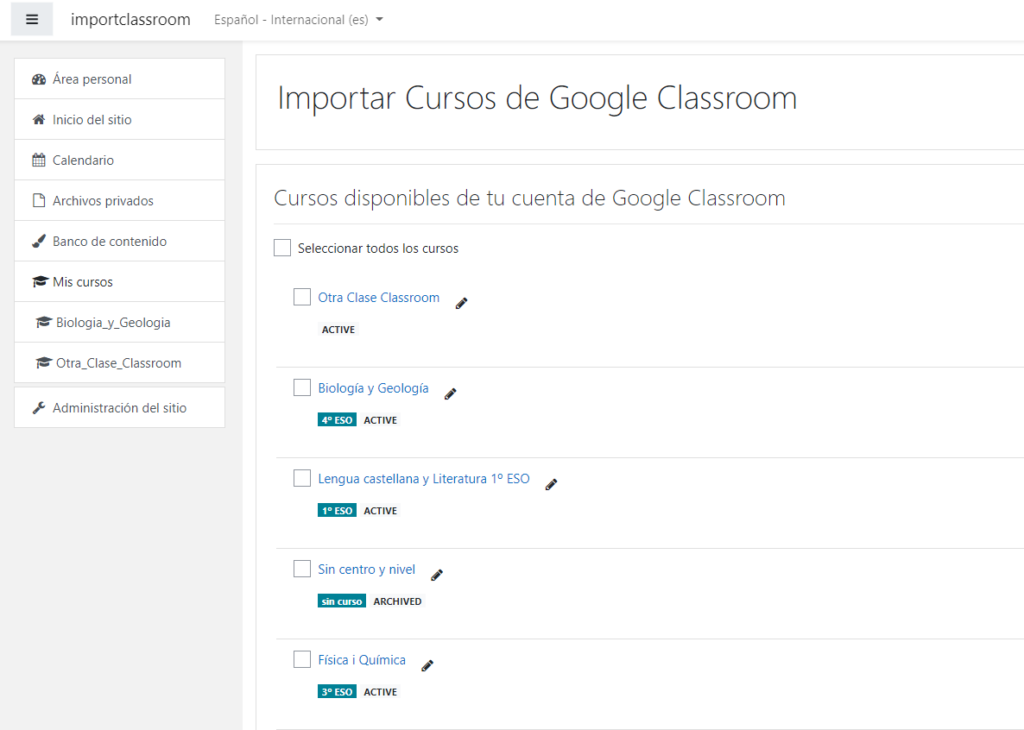 This plugin is also able to access Classroom courses that are under "Archived" status, and import courses even if the user did not create them, but still have access to them, as the plugin only needs read content permissions to perform the full integration. This plugin will not modify or delete any Classroom content at any time.
Additional settings have also been added to each course for its import, such as the possibility to change the course name, choose the section where it will be imported, whether it will be visible to users, the option to import the user's Drive files to the Moodle private area or import the Google course calendar to Moodle's own calendar.


Once you have selected and configured each of the courses to be imported into the platform, just click on the "Import courses" button, and the plugin will start working automatically, displaying progress traces and links to each of them after completion.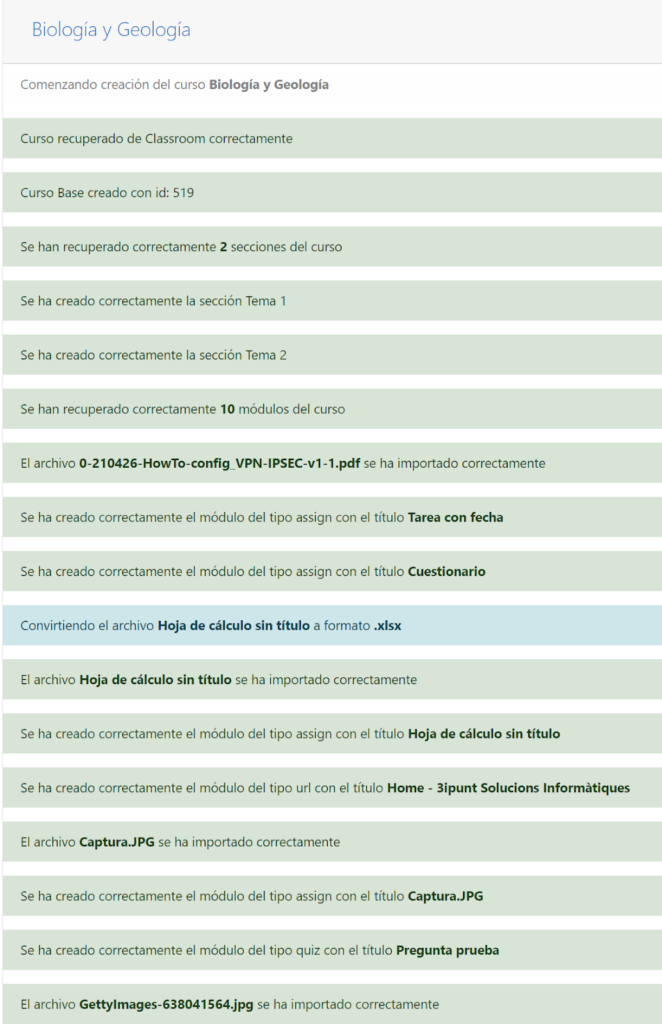 Review and adjust the content
Once the import is finished, we will only need to review and adjust the contents of the courses as we would do with any Moodle course, being able to provide the structure and appearance that previously could not be given by the limitations of Classroom, and enriching the functionality with any plugin or integration we have in our Moodle platform, as well as assign grades, competencies, access restrictions, create user groups, and everything that Moodle allows you for online training.
This plugin is not meant to access any personal data of the users, so the migration of the participants of each course and their grades is the responsibility of the user for this task in Moodle.
It must be taken into account that neither the contents nor the approach of Classroom and Moodle courses is the same, and it has been necessary to devise an adjustment to make these two systems compatible, but fortunately, Moodle has a large repository of configurable resources that made possible to adapt all the contents so visualization is much as similar as possible among both platforms.
To mention some examples of equivalences between Classroom and Moodle content:
Classroom Themes will be course sections

in Moodle, keeping the same title.

If the Classroom class has a cover image, it will be imported as a cover

image in the Moodle course

.

Materials with a single file in Classroom will be imported as

assignments in Moodle

, by importing the physical file into the Moodle file system.

Materials with more than one file will be turned into

Moodle folders

with the files available for viewing or downloading directly from Moodle.

Classroom external links will be

URLs resources in Moodle

.

Embedded

videos

in Classroom will also be

embedded in Moodle

.

Google Forms

will be transformed into

Moodle quizzes or feedback surveys

, depending on the configuration and complexity of the content of each one, and the configuration of the resources will be imported according to the configuration of each Google Form.

The

files will be downloaded directly from GoogleDocs with the appropriate format and stored in the Moodle file system

(the .docx documents, the spreadsheets to .xlsx, etc. using for the transformation of the official Google APIs, so the result is the same as doing it manually).
If you were not satisfied with the equivalence of some content between the two platforms, or you do not use the same content in all courses, you will still have the content imported and accessible in Moodle to be modified, configured or replaced by the one that suits your needs best, without having to re-enter Classroom.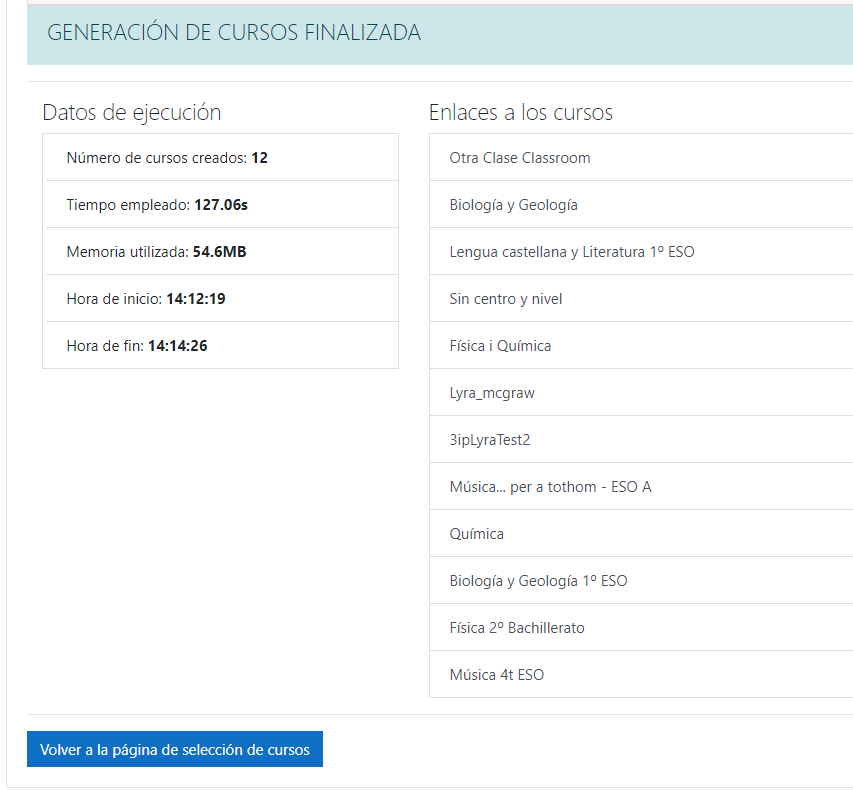 Compatibility with Moodle versions
This plugin is compatible with Moodle 3.9 onwards and will be constantly growing, adding new configurations and possibilities when importing content, and extending the scope to new features that Google Classroom will implement over time so that users always have the ability to easily migrate content from Classroom to Moodle, without the waste of time throughout the process is used as an excuse for not achieving the task.
If you want to use our plugin, or if you want to know about it, do not hesitate to send us an email at contacte@tresipunt.com!
In addition, if you need any modification or extra functionality on the plugin so that the contents are created and configured according to the needs of your platform, at 3ipunt we can adapt the plugin so that it performs as you expect and the migration is even easier for you.
Content migration is no longer an excuse to continue using Classroom.