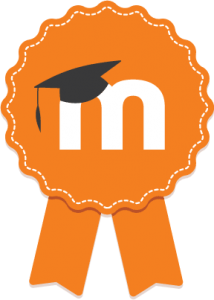 From 3ipunt we prepare you to take the Moodle Educator Certificate, the official training that recognizes and certifies the proficiency in the construction of learning activities with Moodle.
Designed for teachers, instructors and trainers, this program uses research on the development of study plans and digital competence standards to provide transferable knowledge and skills that affect the practice of teaching and learning.
We offer the certification in Catalan, Spanish and English.
Certify your knowledge in Moodle
Here there's three different paths to do so
Foundation Level Certificate
Our introductory certification consists of 6 fundamental modules that are internationally-recognised digital competences.
Teaching Approach Certificate
Focus on any of the four teaching approaches (Design, Guide, Connect, and Reflect) enabling you to establish expertise in MEC learning practices.
Comprehensive Certificate
Certifies mastery of MEC teaching approaches with 22 internationally-recognised digital competences.
Hello!
Tell us what you're up to and we will advise you without compromise.
Moodle Certificate