MoodleMoot Global returns to Barcelona, the annual meeting where we address issues related to technology and education. Although it is linked to the Moodle platform, and this continues to be one of its central themes, many other topics related to the use of technology in education are also addressed.
Moodle and its possibilities in e-learning training
Moodle is an extremely versatile tool with many connection possibilities integrated by default, as it is the perfect hub to integrate, through useful collaborations, the open source software, oriented to public and quality education, that already exists in the market.
The journey has already begun with Big Blue Button and H5P, for example, and could continue with cloud storage software, student information systems, school management systems, document editing software, etc.
We are moving towards a scenario in which schools do not have to depend on the acquisition of licenses and can be free to create their own online training, students can grow up with a different mentality and learn that alternatives to the big technological monopolies can be created.
All of these topics will be discussed at MoodelMoot Global on September 27th, 28th and 29th.
With this year's MoodleMoot Global, a unique opportunity is being created for at least 600 Moodlers from around the world to come together to focus on our theme of the future of education. And 3ipunt is part of the event as a Platinum Sponsor.
Why should I go to MoodleMoot Global 2022?
This year's MoodleMoot Global program includes more than 120 presentations, covering the three conference streams: educators, administrators and developers, distributed in thematic sessions.
With speakers from 32 different countries, the sessions combine different talks, workshops and poster presentations from the Moodle community, Moodle Partners, Moodle HQ and sponsors.
Conferences and presentations
This year includes keynote presentations covering the different conference streams, including presentations by Martin Dougiamas, founder and CEO of Moodle, and Andreia Inamorato, expert in digital education, educational technologies and open education and Scientific Officer at the European Commission, Joint Research Centre (JRC).
MoodleMoot Global will also feature community sessions from the Moodle community, Moodle Partners and sponsors, hands-on workshops and sessions, social and networking events (including the MoodleMoot Global Party!) and much more!
Our talks at MoodleMoot Global in Barcelona
3ipunt, as Platinum sponsors at MoodleMoot Global in Barcelona, is going to make several lectures in which we will talk about several topics.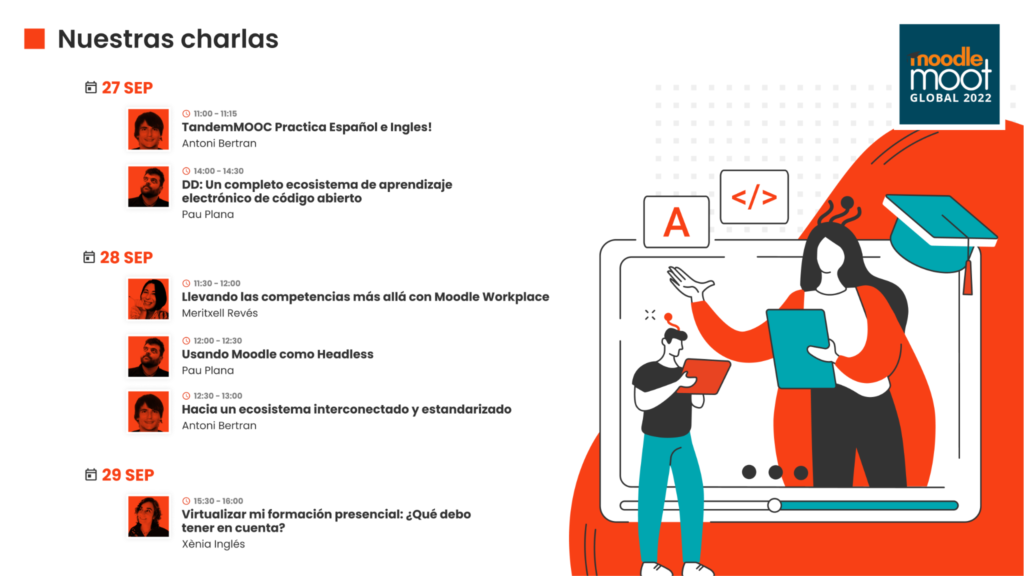 What will 3ipunt talk about in its MoodleMoot talks?
Our Moodle experts Pau Plana, Antoni Bertran, Xènia Inglés and Meritxell Revés will give presentations on Moodle teaching, development and management.
Topics such as the TandemMOOC project that allows online tandems with native speakers and how our Moodle developers have integrated it with WordPress.
We believe that digital education is relevant to our future as a company and as a society, so we are going to explain how to move towards a fairer education with the DD project, an open source elearning learning ecosystem.
Meritxell Revés will give a talk on Moodle Workplace and how to take advantage of it by assigning learning plans and making automated enrollments.
We believe it is important to explain how to manage your content in Moodle, and then distribute it to the technology you need (vue, angular, react and node, among others).
We will give another presentation in which we will review the 1EdTech standards that allow our Moodle to become an ecosystem of applications.
To conclude our talks, we will tell you what we must take into account to virtualize our classroom training considering the characteristics of online training.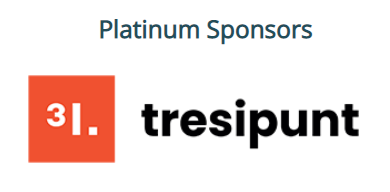 This year we are Platinum Sponsor of MoodleMoot Global 2022!
We will have a booth next to the Moodle stage, where you can visit us, meet us and participate in fun challenges.
#letselearntogether #MootGlobal22