Elearning content design
We help you create e-learning experiences, that is why we are different in offering content developments with an attractive design and high interactivity.
We approach each project in a personalised way so that it fulfils its own objective. Our team is made up of people specialised in pedagogy, instructional design, graphic design, development and animation.
Services
We like to create
We accept challenges and therefore we do not believe in limits
Consulting
We assess you to create the best possible course based on our experience working as a team with you.
Instructional design
If you have content, we script it, but if you don't, we create it. We look for the best pedagogical solution using different resources.
Factory
If you have a lot of volume and want to make virtual your content, this is the best option. With a modern design and development in record time.
Custom-made
If you need a customised solution we will help you to create it. We like to put the pieces together to find the best solution.
Video elearning
Enhance knowledge through training or interactive videos, optimising the learning experience.
Mobile Learning
We design the training specifically to be consumed on a phone or tablet, so you can take the content with you wherever you go.
Simulators
In some cases you learn more by doing. We take people to face these processes in a safe place.
For the most daring 😉 Get away from boring trainings and turn them into challenges, use game mechanics and include narrative to generate more attraction.
Custom-made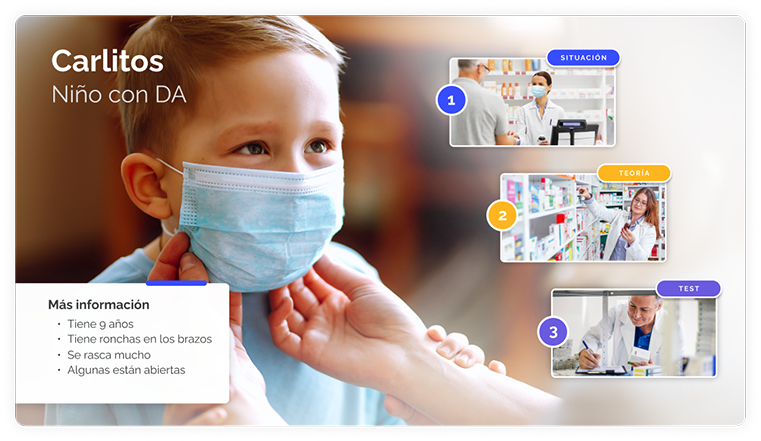 Customised e-learning content design
We make completely customisable content, the employee will be trained based on multimedia content, as well as images, videos, challenges within the platform and missions outside the platform, interacting with departments and colleagues, adapted to the client's taste.
Simulators
We create simulators for users to learn by doing
We like the word playful attitude. This attitude is an attitude towards life, it has to do with living in the present, accepting mistakes and transcending them, embracing uncertainty, approaching situations as challenges and enjoying the moment.
We create pleasant environments. People create atmospheres that are worth being in when they play. Therefore, we are able to create environments that are attractive enough to deal with problems or difficult situations.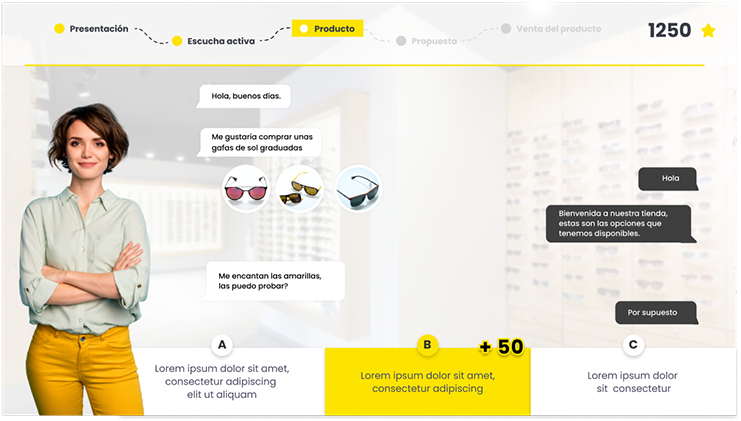 A little bit more
Let's raise the level of our trainings
FAQ
Do not hesitate to ask any questions
any question you may have.
¿What if I do not have previous content?
No problem, we have instructional designers who are able to create the content.
I have a lot of content to be digitalised, is it going to be too expensive?
With the factory service, we are able to adapt to all types of customers to ensure a fast development and, consequently, a reasonable price.
Can I convert my existing training to SCORM?
Yes, we are able to convert any type of training to SCORM after a consultancy.
In a SCORM course that contains video, are you also in charge of making them? 
Yes, we have an audiovisual production team that is in charge of making all kinds of videos: Motion Graphics, animated, recordings, tutorials, etc.
Can you adapt to the corporate image of my company? 
Yes, we can adjust to any type of design, as everything we do is customised.