Moodle LMS,
the unlimited platform
Moodle is an open source LMS platform that can be customized for any online course or teaching method of choice.
We are Moodle Premium Partners , and we are delighted to be part of this great family. The Moodle online training platform is like a puzzle and we make sure that the pieces fit together in your elearning project.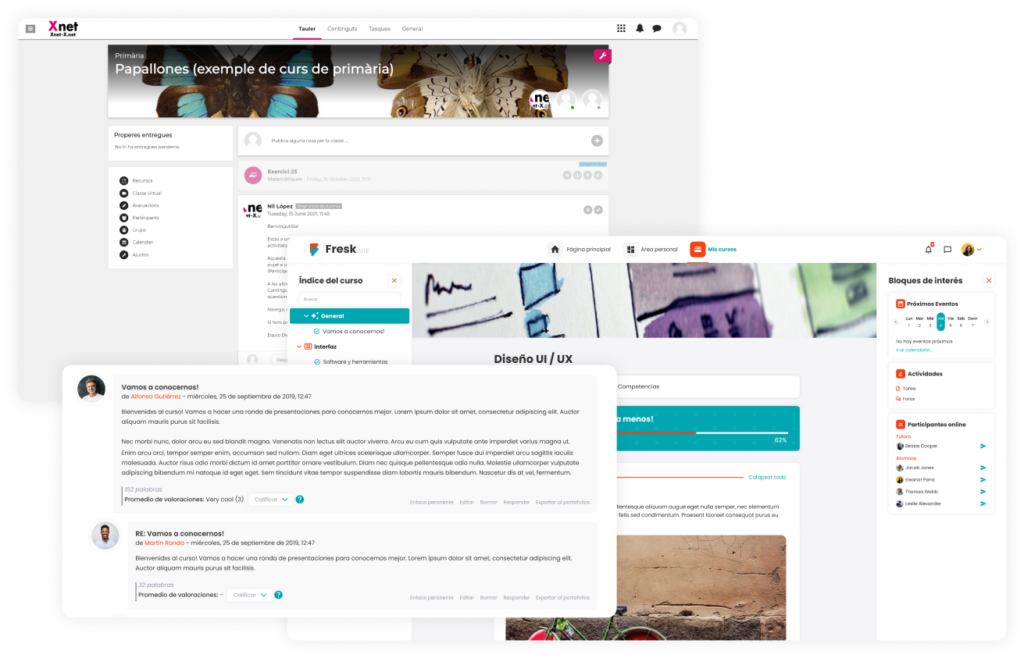 And you might be wondering,
What is so special about Moodle platform?
More than 300 million users worldwide.
Its code is open, and we all contribute to its development.
It is scalable, flexible and customisable.
It uses standards and is multi-language.
You will be able to use multiple resources to build your training: collaborative activities, quizzes and assessments, badges and a long list of other possibilities and features of Moodle.

Do you need your platform to be compatible with SEPE and/or FUNDAE?
Services
And yes, no doubt about it.
You will not do this puzzle alone, we will help you with everything you need.
Consultancy
and proactive support
We give you advice on the best solutions for your platform and provide support for any eventuality.
Visual themes and design adaptations
We have a team expert in graphic design who can create a custom design for you.
Custom development and integrations
Integrating your Moodle platform with any other LTI-compatible learning resource is now possible.
Optimised and specialised hosting
We manage the hosting, either on our own or third-party servers, as well as the domain, the e-mail configuration and the https protocol.
Customised projects
We customise your learning platform.
Upgrades and security
Let us take care of the updates and protect your Moodle LMS over time.
Reporting and learning analytics
Learn more about Moodle's reporting capabilities and how to take advantage of the knowledge.
Training and official certificates
MEC, open trainings and webinars.

Plugins
Do you want a 360º eLearning experience?
Never before has it been so easy to make a 1000-piece puzzle.
With the help of plugins you will improve the quality of your project exponentially.

FUNDAE
Our team of developers has designed a plugin to automatize the creation of FUNDAE reports for Moodle 4.0 and Workplace, so you can reward your courses.

Validation and monitoring SEPE
The plugin validates by web service that our platform fulfils the requirements of the SEPE in order to be registered in the SEPE's online register as a Training Entity. The SEPE can also consult courses and users of our platform.

SEPE traceability reports
Create Moodle and Workplace reports for Annex V (B) BOE compliance.

eCommerce (WordPress)
This is another of our team's developments. The WordPress plugin allows integration between Moodle and WordPress in terms of users, courses and registrations.

BigBlueButton
Plugin for Webinars and videoconferences that integrates perfectly with Moodle, creating each video as if it was a course activity.

Zoom
Plugin for videoconferences and webinars that integrates perfectly with Moodle creating each video as if it was a course activity.

SSO Microsoft
Improves the user experience with Moodle single sign-on, using Microsoft authentication systems.

SSO Google
Improves the user experience with Moodle single sign-on, using Google authentication systems. Training
We offer training
for everyone
MEC
Moodle Educator
Certification
We are official MEC (Moodle Educator Certification) facilitators for Moodle. This comprehensive programme is designed to improve your online teaching skills and if you are an experienced Moodle user as an educator, this is the most appropriate certification for you.
Courses
custom made
for customers
In all our projects we offer 4 hours of training for project managers. In these sessions we teach them how to use the platform and the customisations or functionalities we add to the LMS or other systems we build.
Training
open
and webinars
We are members of the Moodle Barcelona Meetup group and collaborate with Juan Leyva, from the Barcelona Moodle team, offering free webinars on some Moodle topics and others.
FAQ
Do not hesiste asking
any question yoy may have
Why should I choose a Premium Moodle Partner?
With such a cool name, who can resist? We have undergone a rigorous qualification process, and as a result, we are able to offer a closer service compared to other partners.
From which versions can I update to Moodle 4.0?
Our developers can handle (almost) anything! We recommend Moodle 3.10 or Moodle 3.11, but it is possible from Moodle 3.8.
I am looking for a platform with a customised design.
We are what you are looking for! Give us a white canvas and our team of designers will set no limits to creativity. Dare you?
I need to be able to get my courses subsidised by FUNDAE, what do I need?
We help you, we have developed a plugin that we include in our platforms so that you don't have any problem when it comes to crediting your courses. With it you will be able to homologate your platform in order to be able to get FUNDAE course bonuses.
I need a video conferencing tool for my trainings.
Moodle is ready to use BigBlueButton integrated in the core or the rest of the most popular tools, through plugins, such as Zoom, Teams, Collaborate or GoToWebinar