We are terribly happy to announce we were awarded with the Major Open Source Contributor to the Moodle Project Award at the Moodle Ceremony Awards 2021.
During the past year we had the chance to work on more projects than ever. Even though there were some challenging projects, there's always those that go further than ever expected, especially when it comes to teaching and learning online while living through a pandemic.
We were established in 2004 as an Open Source Project, we have always loved contributing to the Moodle Community and the project itself; and this time we had to go further. Even if  we do not contribute a lot with code, we have been involved in some projects that can change the world and the way our data is managed.
During this year, we worked, specifically on a project in which we had the chance to transform a Moodle platform into a "Moodle Suite". We created a kit of tools using Open Source platforms, like Moodle, BBB or Nextcloud, and interoperability standards like LTI, to provide an alternative to the LMS some schools are currently using.
We improved the usability and the UX creating a specific template that allowed users to access the LMS features and other software functionalities using the same layout. All data is hosted in a public cloud and controlled entirely by every school, with the potential to increase the space without limits. We also created a Google Classroom Import tool that creates Moodle native activities by importing them from the Google Classroom.
Furthermore, we integrated Revisely with Moodle using LTI and helped them to get certified by the IMS. Revisely uses learning standard tools to create a revision toolkit for teachers, which can be used in Moodle thanks to our integration.
Moodle counts with more than 100 Service Providers worldwide, and we are very proud to be part of this list, as well as to be awarded by Moodle within this wide community of experts.
Our CEO, Pau Plana, says: "We would really like to thank Moodle for this recognition. Despite that, we take it as a challenge to continue working hard and to improve daily in the projects we develop. Thus, we hope to continue contributing to Moodle projects more and more every day and to release as many pieces of new code as possible."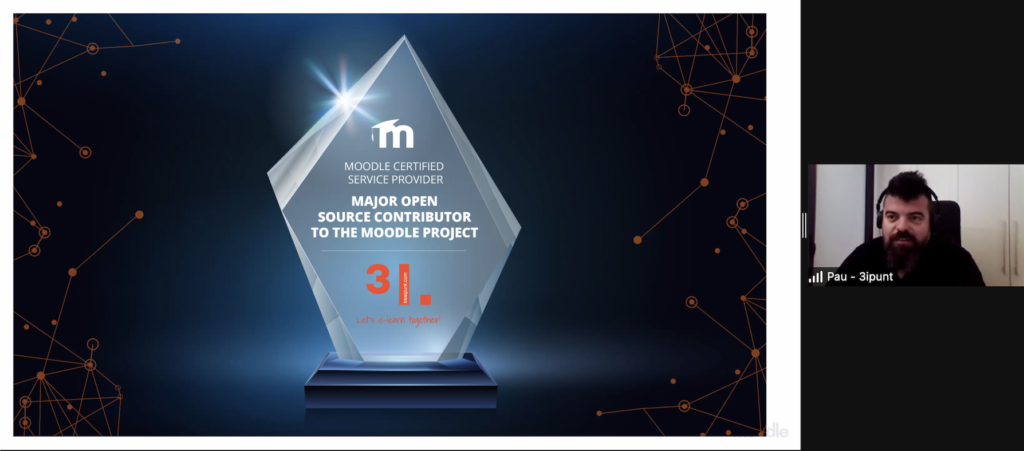 Our CTO, Antoni Bertran, mentioned that "Being a Moodle Premium Partner is not an easy task to keep up with, and it is thanks to our tremendous team that this award was possible to achieve."
In 2021 we achieved several goals:
Our team grew 25%.

We started using new tools to improve our communication working remotely.

We launched several new projects related to Moodle.

We kept the Moodle Premium Partnership.

We count with 20% new customers.
2022 is around the corner and we hope to continue contributing to Moodle, devoted to the Moodle project itself and all the new upcoming projects. Last but not least, we expect to continue growing as a company and to have the chance to celebrate this award with all of you in person very soon.
Congratulations to all the partners who received an award today and also to the rest of them for their constant effort to become better experts day after day and contribute to make eLearning and, especially Moodle, happen.