At 3ipunt we have worked hard to be recognized by Moodle and to stand out as an expert e-Learning company with the ability to offer Moodle services and products.
What is Moodle's Premium Partner?
Looking back, in November 2020…
"We are pleased to announce that we, at 3ipunt, have obtained the Premium Certified Services Provider seal as the certified Moodle Partner, the most widely used open-source learning platform in the world."
After a long and demanding qualification process by Moodle, it is an honor to be able to announce that we have received the Premium Partner seal, the first and only one in Spain.
This recognition allows us to reach the highest level among its partner's network, with the possibility of offering all Moodle products and services, including Moodle Workplace and hosting with high standards on cloud compliance, working with AWS servers.
3ipunt, first Moodle Premium Partner in Spain. Premium Certified Services Provider
During the celebration of MoodleMoot Spain Online 2020 on November 17th and 18th, the most important event about Moodle for the Spanish-speaking community, in which 3ipunt is a Platinum Sponsor, the new Premium Partner level was officially announced.
3ipunt becomes part of the exclusive group of eighteen partners with the highest distinction worldwide.
Jose Marcos Lopez-Rios, Channel Manager for EMEA, Moodle, highlight 3ipunt excellence and declare that "as a witness to his experience and professionalism by the team members in the projects we have collaborated with, we are proud to name 3ipunt as our first Moodle Premium certificate partner in Spanish."
Since then and as we did before, we have not stopped working on the implementation and custom development of the online training platform for companies, institutions, etc., giving us the opportunity to continue growing in the online education sector in a much more precise and complex way to offer the maximum benefit of Moodle to our customers.
Today, 3ipunt stands out in the online education sector as experts in e-learning we not only create and manage Moodle platforms, but we also develop any Moodle integration in the tool that each client has.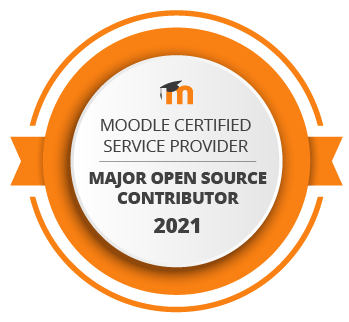 Promoting eLearning by applying computer craftsmanship
After more than eighteen years of proven experience as developers, we have consolidated as a company with an integrating capacity, a high level of commitment, and a philosophy based on open source technologies and computer craftsmanship.
Promoting the best customer treatment, using sustainable and scalable systems compared to the biggest consulting firms, 3ipunt has established itself among national and international diverse clients such as universities, publishing houses, pharmacy and hospital industries, and NGOs.
It has been a long way since its first steps in 2004 starting with web portals, content management systems (CMS), eCommerce and personalized development, which led 3ipunt to proudly become a certified Premium Moodle Partner at the end of 2020.
At 3ipunt we have a wide e-learning experience to help you take advantage of the great potential of the larger LMS platform.
For more information, do not hesitate to visit our website or send us an email to contacte@tresipunt.com.