Learning Technologies is a great experience both for those who want to see and understand the market in general, as well as for the very experienced audience who are looking to go deeper and specialize in very concrete areas. An event where you will be able to attend seminars and different learning sessions with professionals in the learning technology industry.
The Moodle team could not miss this appointment and they have reserved a place for 3ipunt, as experts in e-learning and the first Moodle Premium Partner in Spain.
See you May 3-4 at Europe's premier workplace learning event! Get your free ticket.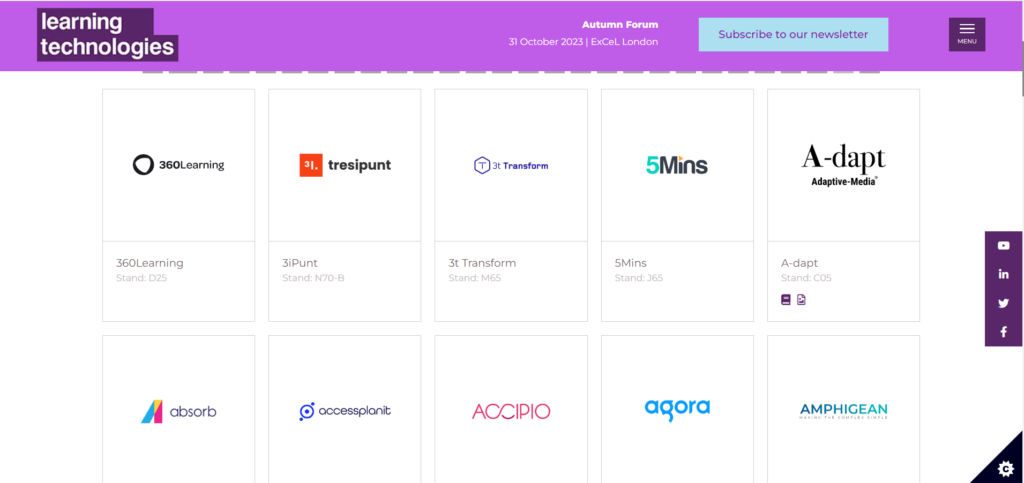 What will I find at Learning Technologies?
The stage is set for Europe's leading event on organizational learning and the technology used to support learning at work.

Conferences
With over 30 conferences and more than 90 leading speakers and facilitators, there is a wealth of content in the collaborative and interactive sessions. In addition, there will be lunchtime sessions, networking sessions, and over 1000 learning and development professionals attending, ready to share their ideas.
Current topics will be discussed:
Educational tools and technologies. Which ones are useful to create an apprenticeship for a company.
Artificial intelligence. How to understand, interpret and report on data to make it work as part of the business.
Content design. How to correctly design course content so that users can really learn.
Learning programs and how to implement them for success.
L&D (Learning and Development) and how to orient training to personalized user needs through different training strategies.
Key skills and attributes to achieve success in training.

What will you learn?
At this great event, you will learn everything you need to keep up with the latest in learning technology and workplace learning.
Learning technologies

Emerging technologies
Collaborative learning
E-learning strategy, technology and implementation
Gamification elearning: games, simulations and virtual worlds
Learning management methods and systems
Mobile learning
Virtual classroom technology

People development

Business and management skills
Leadership development
IT skills and training
Culture and language
Specialized skills
Transformational learning


Learning and performance

Learning aligned with business
Development of high performance teams
Training and mentoring
Commitment to learning
Organizational development
Change management
Integrated learning


Learning resources

Content editors, places and training spaces
Presentation team
Learning supports

Learning systems and services

Performance management
Talent management
Evaluation and assessments
Support and specialized learning systems
Learning infrastructures
3ipunt as speaker

Our colleague Meritxell Revés, eLearning Project Manager at 3ipunt, will talk about the implementation of competencies in Moodle Workplace and how in combination with LMS tools they can facilitate the automation and personalization of students' learning plans.
Our entire team of experts in e-learning training will be there to continue training in new learning technologies and to be able to offer the best solutions to our customers.
It will be a very rewarding event for everyone. See you in London!