If you are thinking of creating a website for your blog, your online store, or your corporate website, WordPress is the perfect tool for it.
Let's define, WordPress is a CMS (Content Management System) or content management system that can be used for the development of a website.
We are talking about the most used CMS worldwide for several reasons:
Easy to install
Easy and intuitive interface
Large community where you can find add-ons (plugins, widgets…) developed by third parties to extend the functionality of your site.
Wide range of customization possibilities. There are a multitude of templates (themes) with spectacular designs.
You may be interested in: WordPress web development
Now, let's get down to business. Let's see how we can install the WordPress CMS on a hosting, how configure it, and customize a website.
How to install WordPress
The installation is usually done from the web hosting panel. In many of them, the package is available as an application for you to install with a single click.
If you do it manually because the hosting does not have this option, it will be done from the file manager by uploading the WordPress package previously downloaded from the official website.
Once the package has been installed in one way or another, the CMS package must be configured and a database must be assigned.
We recommend you save your username and password, you will need them to access to manage your website.
Once the WordPress installation process is finished on the server, you will be able to access the WordPress administrator with the username and password you have saved. You will see a screen like this: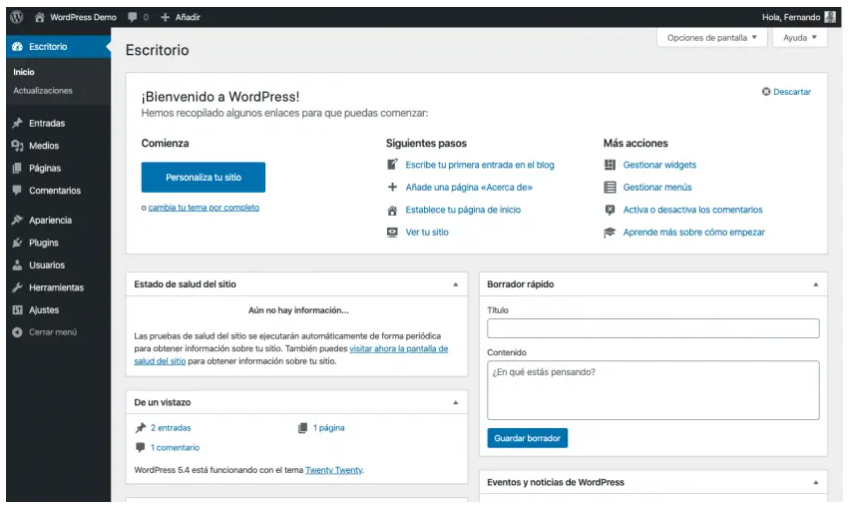 It is the desktop where you can see at a glance the backend of your website in the central part and a menu of options in the left sidebar.
Add template or theme to WordPress
The CMS offers default templates, but if you want a design adapted to what you need for your website, you can find many templates (themes) that are customizable.
Simply choose the WordPress theme you like, download it, and install it on your WordPress. To do this, go to the left column (Appearance > Topics). You can upload the zipped file or choose from those offered by WordPress to install and activate.
Template customization
You can customize different options that will be more or less depending on the level of customization that the template allows.
Log in to WordPress administration and go to the left side menu Appearance > Customize. Here you will find the customization of your active theme.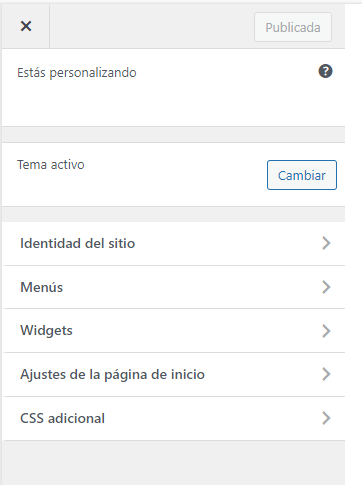 By default, in a basic template, you can customize the website name, menus, widgets for your site, and home page settings.
WordPress menus
Without leaving the customizer, you can manage your web menus or create a new menu. To do so, click on "menus" and create a new one. We recommend that the menu name should be intuitive if you have several menus. For example: top menu, footer menu, side menu…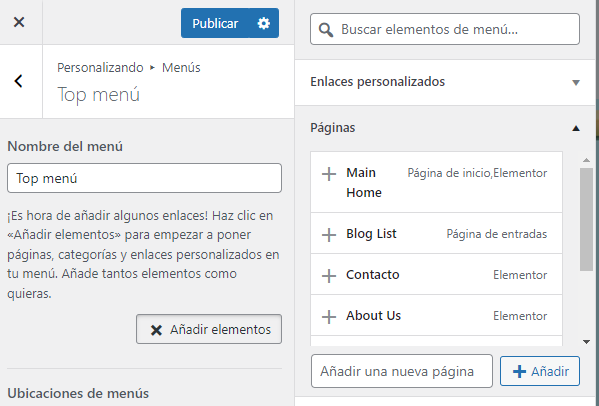 Add to your menu the items you want such as pages, custom links, posts, categories, etc. Whatever your template allows you to do.
Widgets and plugins
Widgets are basic customization elements that depend once again on the theme you have chosen. These blocks offer basic functionalities such as calendars, search boxes, page or entry listings, etc.
A whole world apart are the WordPress plugins, which offer great possibilities. There are some that allow simple functionality and others that turn your website into a CRM (e.g. WP ERP), or even an online store (e.g. WooCommerce plugin).
You may be interested in: WordPress Plugin for Moodle integration
Plugins can be downloaded and installed in WordPress. To do this, go to the left side menu "plugins".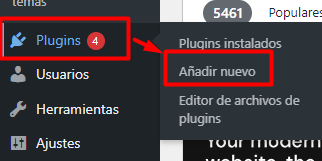 Here you can upload the compressed file of the plugin or search among those offered by WordPress in its plugin repository.
By default, some of them are already installed, but you can do without them if you don't need them.
Create pages and posts in WordPress
It's time to start creating your web content. To do this we will use the pages.
In the menu on the left, click on pages > add new:

From here you will find the WordPress text editor which is the same for pages and blog posts.
As if it were a Word document, here you will be able to emphasize text in bold and italics, create lists, include links, etc.

In the options on the right, you can publish directly, leave the page as a draft and choose what visibility the page will have, among others.
There are a number of pages that are essential for a website, such as the home page and the contact page, where you can include a contact form so that your customers can communicate with you.
So far we have seen some basic themes to So far we have seen some basic themes to create your website in WordPress, but you can create complete websites. At 3ipunt we have web developers that make magic with your idea.
We will continue to train you in future articles on our blog!