What is Moodle Workplace?
Moodle Workplace is an online training platform to provide a seamless learning experience for corporate employees and learners in an accessible and customizable environment to facilitate time-saving onboarding, learning and business needs as it can be integrated with existing software.
3ipunt is a Moodle Premium Partner and is licensed to offer its customers the new Moodle Workplace version.
Why Moodle Workplace?
Here are some tips on why learning online with Moodle Workplace is highly recommended.
Synchronized learning
Course integration
Employee communication
Content sharing
SCORM compatible
Customised reporting
Learning management
Content management
Assessments and certifications
Employee engagement
Who is Moodle Workplace for?
E-learning Moodle Workplace, Moodle's online training platform, is primarily focused on corporate clients who offer training to their employees or their customers.
It provides accessible training for your employees and tracks their development and engagement.
Moodle Workplace Companies, the best solution to train your employees.
Where can Moodle Workplace be used?
Cloud, SaaS, Web, Android (mobile), iPhone (mobile), iPad (mobile).
How does Moodle Workplace work?
Optimise employee onboarding and learning in your company:
Assign and schedule courses
Share content between departments and other companies
Track learner's progress onboarding
Certifies the employee with the completion of the program or course
Create personalised content for each employee or groups of employees
Users can access customized courses assigned by the e-learning platform administrators and learn in an easy way. Thanks to its activities and tools, training can be tailored and personalized for each group of employees.
Integrate external systems into your Moodle Workplace
Your company's existing systems can be seamlessly integrated with the Moodle Workplace e-learning system.
Learning assessment
Follow up on employee skills and development with customised reports for each employee with a range of filters and resources available.
Communicate with employees
Through notifications and messages, the learner/employee will be able to interact with peers and internal communications from the user interface. They will also be able to access documentary content throughout their online learning.
Creating multiple learning platforms
You can give different departments a different space adapted to their specific needs. You can also assign permissions according to each profile.
What does the Moodle Workplace interface look like?
Moodle Workplace offers a default layout that can be customised to the needs of the organisation.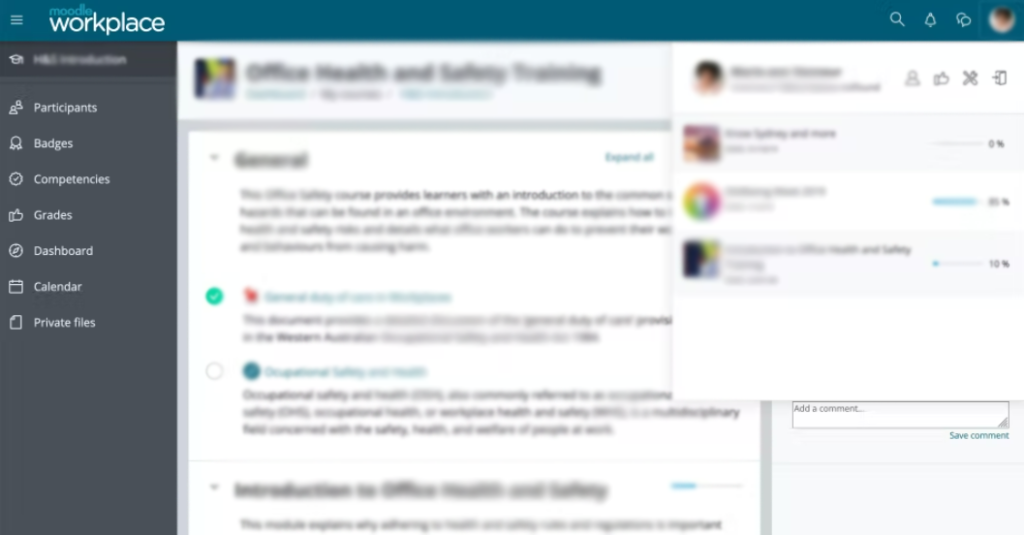 Through the so-called "tenants", different training spaces can be created under a common space. In this way, it is possible to share common content and individual content for each online training space.
You already know a little bit more about Moodle Workplace, a way to train your employees and follow their evolution within the company. In 3ipunt we are experts in Moodle, we encourage you to tell us your case so we can study it and offer you the best option.