E-learning is here to stay. After the pandemic, its use has become widespread and currently online training is one of the most popular methods of education.
People who approach online training environments become familiar with the vocabulary of this sector, such as webinars, virtual classrooms, videoconferencing, elearning platforms, Moodle, virtual campus, LMS, etc.
In this blog post, we are going to talk about the elearning world and its great possibilities.
What is e-learning training?
It consists of applying the benefits of technology to training. It is a non face-to-face methodology, it is a training model that is done through electronic means.
E-learning is not new, although after the Covid-19 pandemic it has become more firmly established, the reality is that it has been around for 20 years and millions of students around the world have already been trained in this way.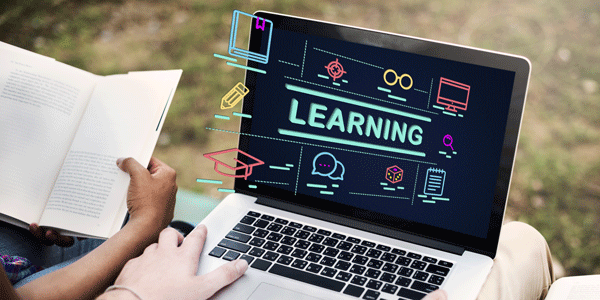 Training models: synchronous and asynchronous
What is synchronous training?
This is training carried out In Time or live (in real-time), interacting both teachers and students with class schedules, live time for activities, exams, etc.
It is the most similar to the classroom education that we all know but changing the place of realization, since everyone can do it with their computer, through videoconferences and online meetings. With complementary tools such as the virtual whiteboard on which the teacher can display documents, messaging and chat for communication between participants or other options such as the ability to record the session.
What is asynchronous training?
In this training model, teachers and students do not have to work together at the same time; instead, content and activities are created and the student carries them out at a specific time, whenever he/she wishes. This training is carried out through e-learning platforms, whose usual functions are:
Moodle LMS is the most used e-learning platform and from our experience as elearning experts, the one we recommend for any type of online training.

Creation of didactic units or courses with activities. These activities can be informative, such as reading a text, or a PDF, watching a video, or listening to an audio file, or they can be a test-type activity with student interaction: taking a test, a quiz, submitting a paper, etc.
Configuration of the course itself: assignment of teachers, dates of activities, restriction of certain resources to the student, configuration of course progress, diplomas, certificates, etc.
Enrollment of students in a course. You can create open enrollments or with permissions to be provided by the platform administrators.
Tools for teachers. Communications between teacher and student, by email, chat… Where doubts and questions about the subject will be solved, formulas for grading exercises, tests and tools that allow teachers to monitor the evolution of students.
Which training model should I choose?
You do not need to choose, as you can opt for a blended learning model depending on how the training itself is configured.
Most elearning platforms have the option to integrate video conferencing. For example, in Moodle, we usually do it. From the LMS itself, you can create and manage videoconferences, registering the participants and the time spent in each one of them.
Combining both tools we can teach courses with asynchronous content, which also has synchronous elements, being able to establish the weight between both options according to our objectives. The great advantage is that both modalities are integrated into the same system, multiplying flexibility and creating new options.
There is no specific model to choose, as it will depend on each specific circumstance, work or study schedules, possibilities of each person, time of dedication, etc.
What should be taken into account based on our experience as e-learning training providers are the following conditionalities:
A commitment must be made for videoconferences or online classes because when we are used to face-to-face training, we organize ourselves based on that day of "work", but being online, any time can be good, or so we think. The reality is not like that, since the day must be organized in the same way as if we were doing it face-to-face.
When the training is online, different "technical problems" may arise, such as "my microphone is not working", "my connection is down", etc. We must be prepared for this type of unforeseen events.
If we have had several online sessions that day (in the case of the student or the teacher), the attention may not be optimal.
Everything seems easier when training is done online and the student's attention can be lower, since in front of your computer you can be surfing the internet while listening to the teacher, watching social networks, etc.
After reading these points, it may seem that online courses have no appeal, but nothing could be further from the truth. The number of resources and activities that can be included in online training is so wide that there will always be a way to develop online courses with high interactivity, entertainment, and attractiveness for the user and beneficial for the institution.
At 3ipunt, we are committed to e-learning gamification, as it improves student interest and motivation, increases learning effectiveness and promotes the development of collaborative skills.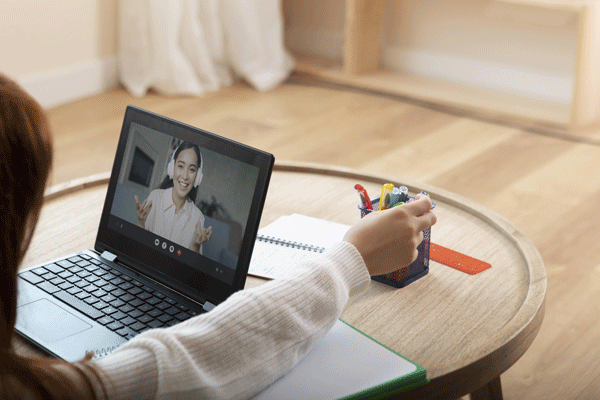 E-learning training possibilities
There is a multitude of possibilities to opt for virtual education models.
We expose the most relevant, whether you belong to an institution such as schools, institutes, training centers, or if you belong to a company and need to train your employees.
Cost reduction. Costs decrease considerably when compared to face-to-face learning. Savings in didactic material, per diems or transfers, registration fees, etc.
Speed and agility. One of the advantages of e-learning training is that it offers immediate learning since it makes it possible to quickly obtain the necessary information for any type of teaching. The information is obtained instantly, in an agile and very accessible way.
Self-management. You can manage your time and your learning pace. And you can do it anytime, anywhere.
Location. A huge advantage is that any type of training can be done online regardless of location.
Updating. The contents, being online, can be constantly reviewed and updated. And updates can be made by both students and teachers.
Flexibility. Allows the learning of any type of teaching from a wide range of devices.
Conciliation. This is one of the great advantages of e-learning, you can conciliate family life and work life with the study of a new discipline.
Collaborative learning. One of the advantages of e-learning training is that different people can carry out activities, debates, etc. through a given platform.
Virtual platform. It is common to use platforms where all the information related to education is concentrated. As we have indicated, one of the most consolidated platforms is Moodle.
Information management. Information management is very different from that of presential education. In e-learning the student has a large amount of information to which he has free access.
Qualification. One of the clear advantages of e-learning is that it offers an accredited qualification, just like any other classroom training.
Feedback. It has an enormous capacity for feedback thanks to the delocalization and not depending on a defined temporal space. Social networks are key for this feedback.
Digital competence. One of the benefits of e-learning is the digital competence for the adequate realization of any type of teaching. People who have been trained online have acquired knowledge and technological tools thanks to this learning.
Registration of the activity. This is one of the most important advantages of e-learning training. All the activity that is carried out is recorded so that learning can be controlled by both parties.
Unlimited enrollment. There are more flexible training offers in terms of the number of people who can access the same training or education.