Sometimes we encounter educational systems that are too rigid and with complicated and tedious manual processes that make online training, not a pleasant experience.
In this article, we are going to tell you about a recent success story.
3ipunt and Escuelas Garbí Pere Vergès joined forces to create a unique pedagogical project using the Moodle e-learning platform for companies: Moodle Workplace.
Optimizing a learning management tool
The Garbí Pere Vergés Schools already had a tool to manage the learning of their students, but duplicating information, courses, and user management was a very tedious and manual process and they needed a more optimal platform in this regard.
They were looking for an e-learning platform with advanced functions, automated processes, and the capacity to organize their courses according to the didactic sequence of their pedagogical project.
Moodle Workplace as a solution
These requirements were met by Moodle Workplace, which also gave them the possibility of having an intuitive and practical interface for students, families, and teaching staff.
With this tool, they have achieved a complete solution for all profiles, centralized in a virtual learning environment so that students of different ages, together with their families, can carry out educational activities and the teaching team also finds space for online training.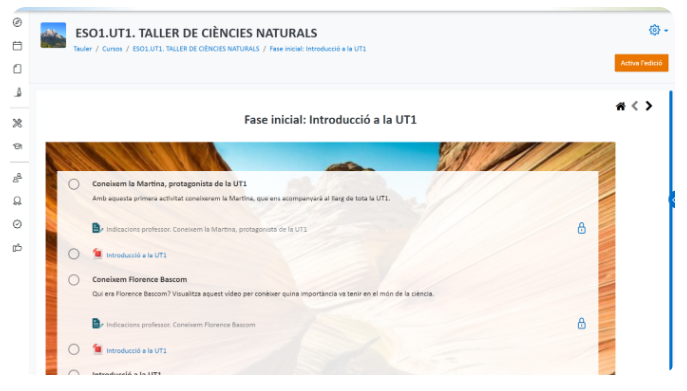 3ipunt, as Moodle Premium Certified Partner, recommended to Garbí Pere Vergés management to go for Moodle for companies, Moodle Workplace, as it had the most important features for them:
Management of three websites (two schools and the foundation) under one site. Thanks to Moodle Workplace's multitenant capability, this is possible.
Automated user and course management and more agile.
A customized elearning platform was adaptable to the virtual learning environment.
You may be interested in: Moodle Workplace features
Learning opportunities thanks to Moodle Workplace
Evaluations: now both students and teachers can know the development of the competencies throughout the course.
Accessibility: Moodle is multiplatform so that educational processes can be followed on different devices.
Grades: via web service, students' grades are uploaded to their school management tool.
Integration with learning platforms external to Moodle, so that activities can be recorded.

Success with Moodle Workplace
Mr. Antoni Santisteban, Pedagogical Director of Garbí Pere Vergés Schools, states that "the change to Moodle Workplace has been a solution with which we have achieved a solid, profitable, and safe virtual teaching-learning environment".
In this success case, we have adapted to the specific needs of the Garbí Pere Vergés Schools, and we have worked to offer a complete solution, programming and developing on Moodle Workplace the different adaptations for the school.
Moodle has endless possibilities and our team of eLearning development and training experts always find the right solution for each case.
You may be interested in watching this video: Everything you need to know about Moodle Workplace